2021 McLaren 765LT Available in Denver, Colorado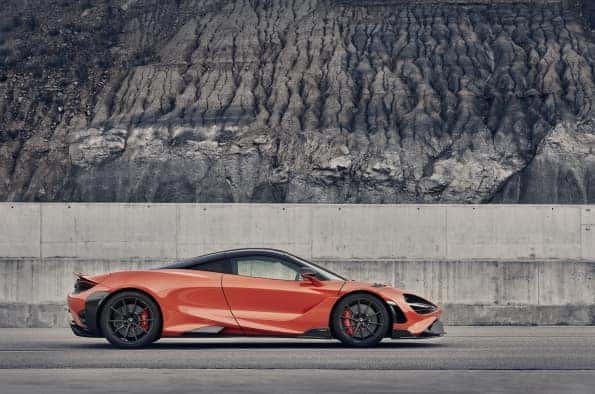 2021 McLaren 765LT
BASE MSRP: $368,000
Horsepower: 754
Estimated City MPG: 14
Estimated Highway MPG: 18 
Get to Know the 2021 McLaren 765LT
Continuing the unrivaled performance and elegance of the McLaren name, the 2021 McLaren 765LT is both revolutionary and unique. The gorgeous, sleek exterior will take everyone's breath away as the driver cruises past them with incredible performance and amazing interior comfort. The 765LT will be an exclusive sportscar, with only 765 slated to be built. As such, owning this special McLaren will ensure the driver becomes the talk of the town.   
2021
McLaren 765LT
Trims
With the 2021 McLaren 765LT being a special edition vehicle based on the McLaren 720S, there will only be one trim available for the 765LT. Taking the already impressive 720S and modifying it further to make the 765LT unique, fans of McLaren will appreciate the excellence that is expected from the 765LT.  
2021 McLaren 765LT: from $368,000
Performance
Fans of the 720S will find themselves adoring the drive of the 765LT. The 2021 McLaren 765LT will be powered by an impressive 4.0L twin-turbocharged V8 engine. With 754 horsepower at the driver's command, exhilaration is what McLaren is going for in the 765LT. Superior acceleration and top speed make this a dream vehicle to drive on the road or even on the track. When the engine is paired with the dual-clutch seven-speed automatic transmission, all the driver has to do is press down on the gas pedal for pure enjoyment.  
Interior Features
The interior of the 765LT takes its design from the 720S, for a feel that is reminiscent of a racecar. Customizing the interior with sublime materials such as Alcantara and soft-grain leather allows for the personalization of the supercar to be extensive. The seating is comfortable but is also lightweight to help add to the performance of the vehicle. For entertainment purposes, the 765LT is fitted with an eight-inch touchscreen for menu navigation. Drivers can choose to add entertainment features including SiriusXM® radio and Bluetooth® connectivity as well.  
Safety Features
Designed for the track as well as the road, the 2021 McLaren 765LT has plenty of design enhancements to help keep the driver safe. The 765LT is also able to be fitted with safety features such as front and rear parking sensors and a camera which allows the driver to see in a 360-degree view. McLaren knows how important it is to make their vehicles easy to handle, and the driver will appreciate the efforts the brand has placed in the vehicle.  
Contact McLaren Denver for More Information About the 2021 McLaren 765LT
The newest model year of the McLaren 765LT is coming soon to Mike Ward McLaren near Denver, Colorado! Contact us today and speak with a sales representative about how we can help you order one of these exclusive supercars. We are ready to help guide you through the process so that you can get your claim on one of these sensational vehicles as soon as possible.
(Photo Credit: McLaren)