2022 McLaren GT Available to Order for Utah Drivers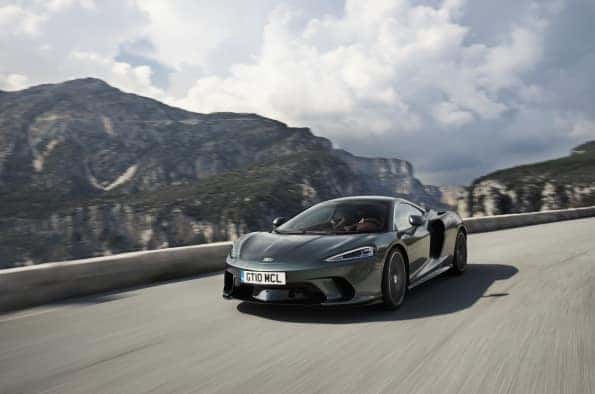 2022 McLaren GT
BASE MSRP: from $215,000
Horsepower: 612
Estimated City MPG: TBA
Estimated Highway MPG: TBA 
Get to Know the 2022 McLaren GT
The McLaren GT has been a mainstay of the legendary brand for a long time, always providing memorable adventures with its scintillating performance and upscale interior. With the 2022 McLaren GT, Utah drivers will find that same elite enjoyment as they take the coupe or convertible around town or at the local racetrack. Break free from the pack with the 2022 McLaren GT and experience why owning a McLaren is a sensational option for the discerning Utah customer.  
Performance
Startup the twin-turbocharged 4.0L V6 engine in the 2022 McLaren GT and hear the unmistakable roar of the 612 horsepower surging through the seven-speed automatic transmission as it unwinds on the road or the track. Driving anywhere in Utah the McLaren GT is taken is an experience unlike any other. Not only will the GT make track days thrilling with the energetic powertrain, but the composure of the coupe or convertible for daily driving is unrivaled as well. RWD handling exemplifies the track-inspired nature of the 2022 GT to give the vehicle impeccable cornering capability when at the local racetrack or leisurely strolling around town.  
Interior Features
While the performance is unmistakable in the 2022 McLaren GT, Utah drivers will love the fact that the interior matches the elite driving experience of the coupe or convertible. Upholstery can either be standard Nappa leather or upgraded to even fancier materials such as cashmere or microfiber. The seven-inch touchscreen display on the dashboard provides quick access to all the various multimedia applications available in the GT. A welcome addition is the inclusion of integrated navigation for easy-to-follow directions to destinations all across Utah. Additionally, SiriusXM® radio is the diverse entertainment option that Utah drivers will appreciate having on any adventure. For dynamic audio, opting for the Bowers & Wilkins 12-speaker sound system is a welcome addition to the entire interior package.  
Safety Features
Catering to the various road conditions or track corners that the 2022 McLaren GT will find itself handling, the coupe and convertible have the driver-assistance technology that customers can count on. Drivers can select the drive mode of the GT to best suit whatever condition they are currently encountering. Regardless of if it's a conventional road around town or the blistering corners of a track, there is a mode that optimizes the handling proficiency of the McLaren. The vehicle has also been kept lightweight to further improve the nimbleness of the superb GT coupe or convertible.  
Learn More About the 2022 McLaren GT at McLaren Denver
Please contact McLaren Denver to learn about why the McLaren GT is the high-quality addition to your sporty fleet of vehicles in Utah. McLaren vehicles are renowned for their precision and upscale driving experience. Step into a GT coupe or convertible and see how your daily adventures can be made even more memorable compared to other elite vehicles on the market today.  
(Photo Credit: McLaren)