Brand New 2022 McLaren 720S Available to Wyoming Drivers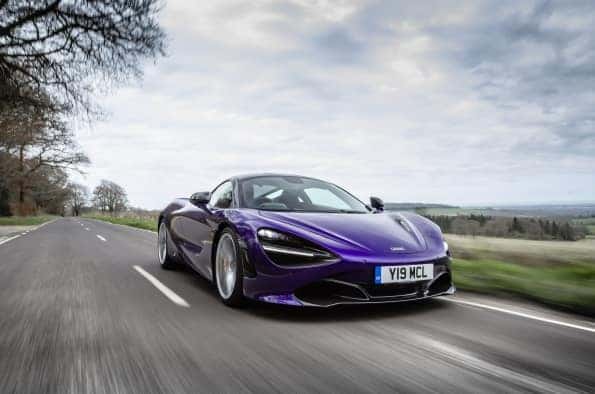 2022 McLaren 720S
BASE MSRP: from $305,000
Horsepower: 710
Estimated City MPG: 15
Estimated Highway MPG: 22 
Get to Know the 2022 McLaren 720S
Cruising around the wide-open highways of Wyoming is a treat when behind the wheel of a deluxe supercar like the 2022 McLaren 720S. Redefining what it means to be a modern performance marvel, the 720S invites drivers to unleash a powertrain designed to make hearts pound with excitement. While the supercar delivers its superb acceleration and top speed, the driver will get to enjoy an upscale cabin that blends the best of both luxury and sportiness. This makes the 2022 McLaren 720S a top choice for today's Wyoming performance enthusiast.  
Performance
When the twin-turbocharged 4.0L V8 engine is allowed to be let loose, drivers get to experience how vibrant and impactful 710 horsepower feels. Whether this is at the local racetrack or out on the highway, the sensation is truly magical. To further exemplify the unique performance of the 720S, the seven-speed automatic gearbox also uses an innovative Reverse Seamless Shift Gearbox. This keeps the gear shifting remarkably smooth while maximizing every bit of the acceleration. With its RWD platform, the agile nature of the McLaren is accentuated beautifully to make it an appealing option around town or out at the racetrack.  
Interior Features
While racing fellow high-end sports cars or just taking a leisurely cruise around town, the cabin of the 2022 McLaren 720S is an appealing one to be seated in. Starting with the well-bolstered seating that can be upholstered in the customer's choice of Nappa leather or Alcantara®, any ride is remarkably comfortable. McLaren has also situated the touchscreen and related buttons for the integrated multimedia system in a way that makes operating the system easier for the driver. While taking on blistering laps at a local Wyoming track, the McLaren Lap Telemetry system automatically keeps times so that the driver can focus on getting the fastest laps possible at their chosen destination.  
Safety Features
Equipped with the Active Dynamics Panel, the driver of the 2022 McLaren 720S can cater to the driving mode of the supercar to best fit their current driving situation. For example, selecting either the Sport or Track drive mode makes the 720S much more nimble to better handle sharp corners with ease. Additionally, the 720S comes with a system called Variable Drift Control. When engaged, the supercar will actively work with the driver to help them stay in control of the vehicle during tighter turns around the track or town.  
Learn More About the 2022 McLaren 720S at McLaren Denver
McLaren Denver invites our customers in Wyoming to contact us today and find out more information about the 2022 McLaren 720S. As an exclusive member of the McLaren lineup, your opportunity to own one is limited. If you are interested in staking your claim on this premier supercar, please don't hesitate to speak with one of our sales associates as soon as possible! 
(Photo Credit: McLaren)