Get Your Deposit Down on a New McLaren Artura Today!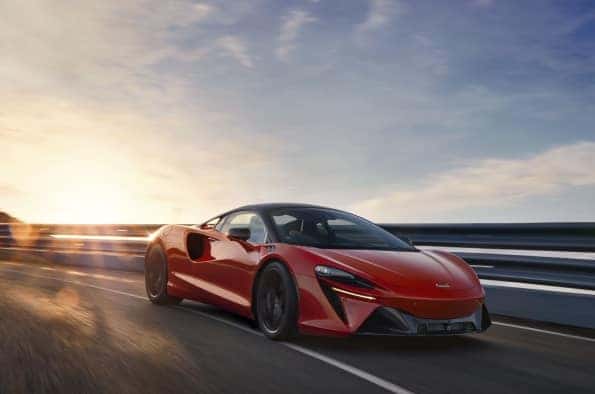 Order a New McLaren Artura Today with McLaren Denver
When you get behind the wheel of a modern McLaren vehicle, you expect an experience that is full of thrills and upscale quality. This attention to detail is exemplified by the introduction of a hybrid powertrain to the high-performance brand's lineup in the McLaren Artura. With quintessential McLaren excellence and performance, the Artura promises to excite Denver Metro drivers. McLaren Denver in Highlands Ranch, CO, would like to help get your claim on a new Artura so that you can start cruising around Colorado in style when the vehicle arrives!
The Special Elements of the McLaren Artura
Hybrid Performance – Setting a new precedent for the legendary brand, the Artura will be the first supercar in the lineup to come equipped with a hybrid powertrain. Combining a robust twin-turbocharged 2.9L V6 engine with an electric motor, the Artura will zip across town or the highway with an impressive 671 combined horsepower. All this performance is channeled through the excellent dual-clutch eight-speed automatic transmission to give the ride a remarkable smoothness to complement the power excellently. 
Sporty Design & Handling – Being a McLaren, you expect to be able to take the Artura for blistering lap times around the track. With its nimble RWD platform and the introduction of the Carbon Lightweight Architecture, the Artura will feel right at home at the track. Even when the hybrid McLaren is being taken around town or the highway, you will appreciate the reliable and responsive steering of the sports car. 
Upscale Interior Quality – Adorned in gorgeous black Alcantara, the cabin of the Artura is truly stunning. The vehicle will also come with plenty of supplementary infotainment systems to accentuate any ride around Colorado from the McLaren Infotainment System II. The eight-inch touchscreen offers quick access to applications such as integrated navigation, SiriusXM radio, and smartphone connection apps like Apple CarPlay and Android Auto. 
(Photo Credit: McLaren)