Impressive 2022 McLaren Artura and Its Performance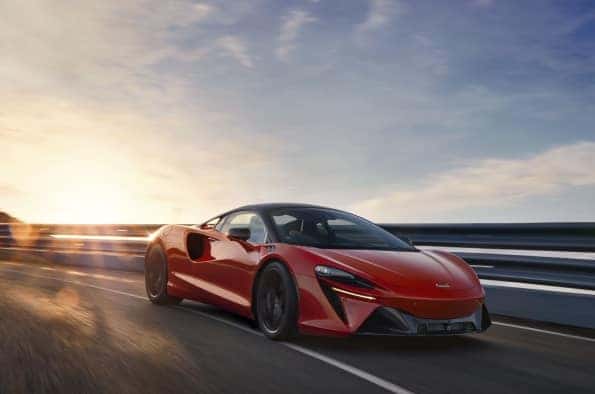 2022 McLaren Artura Performance
Experience a Hybrid Revolution in Supercar Performance
What makes the 2022 McLaren Artura special compared to other supercars? How about the introduction of a hybrid powertrain that will still rival the performance of traditional gas-powered vehicles? The Artura promises to show that a Colorado driver can have the environmental friendliness of a hybrid vehicle while still matching the exciting overall feel of an elite sports car.  
This is made possible with the twin-turbocharged 3.0L V6 engine providing raw acceleration that makes a McLaren stand out from the rest of the pack. However, the addition of an Axial Flux electric motor and a lithium-ion battery, that is cooled through a refrigerant, supplements the performance for cleaner emissions and extra performance. Regardless, the 671 total brake horsepower that the powertrain offers will make taking on the racetrack or the highway a truly exciting experience.  
To further accentuate the performance of the McLaren Artura, the eight-speed automatic transmission uses a Seamless Shift gearbox so the Artura promises to offer the driver a sensationally smooth ride. RWD handling ensures that the sports car remains as nimble as possible around the track so that the best lap times are easily achievable.  
Learn More About the 2022 McLaren Artura with McLaren Denver
The future of elite sports cars is showcased brilliantly with the 2022 McLaren Artura. Taking a bold stance on the powertrain by incorporating an electric motor with the conventional gas-powered engine, the Artura takes hybrid performance and makes it comparable to vigorous conventional powertrains. If you would like to learn about the extra details that make the Artura a special addition to the sports car field, take some time to visit or contact McLaren Denver in Highlands Ranch, Colorado. Our sales professionals are ready to answer any questions you have about the Artura and get you well-informed to make sure you have a confident shopping experience.  
(Photo Credit: McLaren)