Order the Dynamic 2023 McLaren Artura at McLaren Denver Today for Memorable Adventures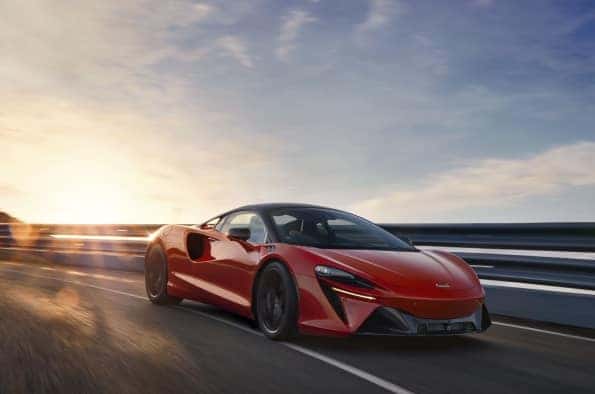 Experience the Future of McLaren with the 2023 McLaren Artura
As the world starts to transition into a more environmentally-friendly one, even sportscars are starting to help make their impact in this dierction. For the McLaren lineup, this is where the new 2023 McLaren Artura enters the market. Being the first hybrid offering from the prestigious brand, you get to experience how energetic and all-around exciting hybrid performance can be. If you are interested in ordering a new 2023 Artura for your Colorado driving needs, make sure you visit McLaren Denver in Highlands Ranch, CO. Our sales team is ready to help you order a vehicle that suits your personal preferences and needs. 
The Majesty of the 2023 McLaren Artura 
The Hybrid Powertrain – A modern McLaren demands to be driven by a driver that demands high-class performance, and the 2023 McLaren Artura is no exception. Combining a twin-turbocharged V6 gas-powered engine with an e-motor, you get to take full command of all 671 combined horsepower the sportscar has available to it. A dual-clutch eight-speed transmission pairs perfectly with the hybrid setup to accentuate the racing inspiration of the vehicle. 
RWD Handling & the MCLA – To accentuate the overall sporty nature of the Artura, the nimble RWD platform that Mclaren rides on responds to steering inputs with striking accuracy. This makes cornering on the track as reliable as taking everyday turns on conventional roads. The introduction of the McLaren Carbon Lightweight Architecture, or MCLA for short, does multiple things for the Artura. It greatly lightens the sportscar to make acceleration and handling even more pronounced. The result is a vehicle that feels divine to get behind the wheel of. 
Loaded Interior – When you are seated in the McLaren Artura, you are greeted by a cabin that is quintessential McLaren. Not only do you get to have well-bolstered and gorgeous seats to sit on, but the sportscar comes loaded with welcome infotainment options. These include various smartphone connection applications and features such as integrated navigation. 
(Photo Credit: McLaren)