The Superior Elements of a McLaren Vehicle Interior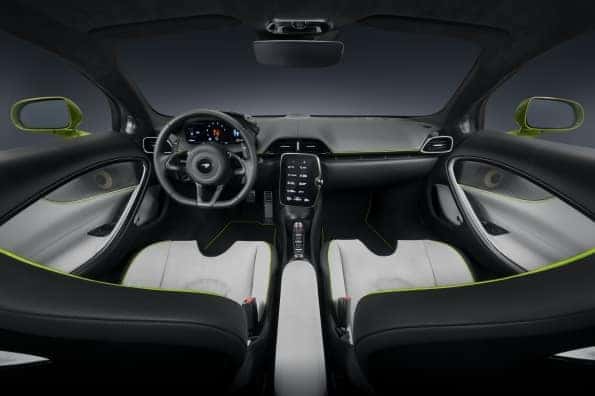 Experiencing a Superior Vehicle Interior Around Colorado
You and your family deserve to experience what a truly elite vehicle should feel like when you all step inside the cabin. Any modern McLaren sports car on the road today exhibits the class and quality that you expect from a premier luxury brand. If you would like to own a sports car that offers you both superior performance and an unmistakable ride across Colorado, make McLaren Denver in Highlands Ranch your first and only destination in the Denver Metro region. Our sales team will be happy to help you order the perfect model to fit your needs and preferences. 
What Makes a McLaren Interior Special?
Upscale Materials & Design – When you purchase a new McLaren from our dealership, you know will be owning a vehicle that has been given the elite treatment. This includes sparing no expense when it comes to adorning the cabin with premium materials. Seating is always upholstered in high-quality fabrics and/or leather, while the cabin itself is designed to cater to the racing-inspired emotions a McLaren is purchased for. Going back to the seating, every seat is well-bolstered and has a racing edge to its visual design. 
Superior Comfort Amenities – To go along with the supportive and visually stunning seating, the cabin is equipped with additional features to ensure that everyone in the vehicle is enjoying every minute of their experience. Spacious cabins provide ample space to cater to passengers during long trips on the highway. The air conditioning and climate control systems installed in any McLaren will keep the air temperature and quality at their peak for a clean and comfortable ride even during the summer months.
Numerous Interactive Elements – A modern vehicle isn't complete without infotainment and other interactive components to accentuate those everyday trips. Every McLaren offers the ability to connect smartphones to their infotainment systems for personalized media content and convenient access to various menus. With sound systems like the ones designed by Bowers & Wilkins, the quality of every song will be memorable. They also feature diverse entertainment options to accentuate any ride. Given their pedigree on the racetrack, onboard technology that tracks lap times and other telemetry functions make them the perfect vehicles to take for a local race day at the track.